Times for Wednesday, October 1

choose date: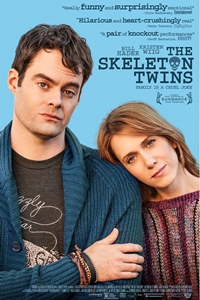 The Skeleton Twins
Rated:
R
Starring:
Kristen Wiig, Bill Hader, Ty Burrell, Luke Wilson
Directed By:
Craig Johnson
Run Time:
1 hr. 28 min.
When estranged twins Maggie and Milo feel they're at the end of their ropes, an unexpected reunion forces them to confront why their lives went so wrong. As the twins reconnect, they realize the key to fixing their lives may just lie in repairing their relationship.
My Old Lady
Rated:
PG-13
Starring:
Kevin Kline, Maggie Smith, Kristin Scott Thomas, Dominique Pinon
Directed By:
Israel Horovitz
Run Time:
1 hr. 47 min.
Mathias inherits a Parisian apartment from his estranged father. But when he arrives in France to sell it, he discovers a tenant who is not prepared to budge.